Seniors Meeting 2023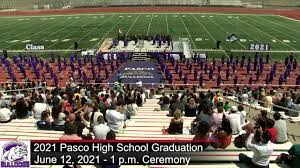 On Wednesday, May 17, 2023, there was a meeting at Pasco High School in the main Gym. The meeting was about the requirements of the 2023 Pasco High Graduation Ceremony. In case some seniors, parents, or teachers forgot or didn't have the chance to be there, it will be all written here.
First up, a contract was given to all seniors to sign in order to participate in the graduation ceremony. Your parents or guardians need to sign in as well agreeing to the policies given in the contract. The contract states, "Dress in a manner appropriate," meaning you must dress formally. They also need to open their gown for visual inspection to make sure that they aren't wearing anything inappropriate underneath the gown or prohibited items. You must wear caps and gowns that were provided by the Pasco School District.
If students wish to wear something for their heritage, they must submit an application for approval. As the contract states, "This item should be a historical representation of their ethnic heritage". The item must be submitted at the same time as the graduation contract and it's going to be brought by the administrator to the ceremony. No other items are brought to the Pasco High Graduation Ceremony, as the contract again states "This includes purses, water bottles, bags, etc." Again, do not bring any other items to the Pasco High Graduation Ceremony.
From now on, Seniors must refrain from disruptive behavior. Meaning engaging in any activity that could result in the senior being suspended. They must not engage in any senior pranks that could be disruptive, illegal, or can cause time to the Pasco School District. No being possessed or being under the influence of alcohol, drugs, or any other substances right before the Pasco High Graduation Ceremony. The contract also states, "no beach balls, balloons, frisbees, noise makers, fireworks, glow sticks, or other items inappropriate that will cause a disruption" to the Pasco High School Ceremony Graduation. This also includes any type of behavior that will take attention away from the graduation ceremony. Such as behaviors that could lead you or others to cause harm, shouting or having rude behavior, making inappropriate comments, gestures, or doing inappropriate acts.
Seniors must make sure they have no debt, such as no school library books or computers. Check in the library if you're not sure if you have a debt or check on the website, Destiny (Pasco High) which is located on MyApps. You might want to talk with the counselor to make sure you're able to graduate. As one of the administrators of Pasco High said in the Senior Mandatory Meeting, "make your counselor your best friend till the end of the school year." One of the last things you have to make sure you complete is to communicate with your teachers so you can pick your seat for the Pasco High School Graduation Ceremony.
Leave a Comment