Our Dogs Can Swim?
While many popular sports have become the face of the fall and winter sports seasons, many overlook the fact that Pasco High School has its very own swim team! For this I will mostly talk about boys swimming, since girls' swim is in the fall.
While the sport has been active for a few years here at Pasco High, the boys' roster is very small, consisting of about 8-9 students, including myself. It is so small in fact, that we practice, cheer, and do everything else along with the Chiawana swim team, with our 2 coaches having unique team shirts. But just because the Riverhawks can fly, doesn't mean that us Bulldogs can't outrun them. Both teams are committed to competing to the best of their ability.
Many people that I have spoken to that are unaware of how swimming works have said the same thing repeatedly, "Did you win?" "What place did you get?" Sports like that do have standings for individual races, but the main point is the time you get. Many athletes spend countless hours just to better their times by just a single second.
I spoke with the head coach, Michael Sandbeck about the overall vibe of the team, "They are so positive, having a good time… and improving a lot, so I guess the main vibe is, improvement."
He also had very high remarks for the team in the competitive standard. "Everybody gives it 100%, and they're actually learning to race."
I asked him how more people can be involved with the swim team, and he says, "The more boys that come out, the better the team, we're like a family. We're having a great time, improving, and learning more than just swimming." In a world that is getting more and more serious, it's nice to have some reminders that we should also have fun, and the Pasco (and Chiawana) Swim Team is a perfect example of that. The chaotic brotherhood they all have with each other puts a smile on everyone's faces.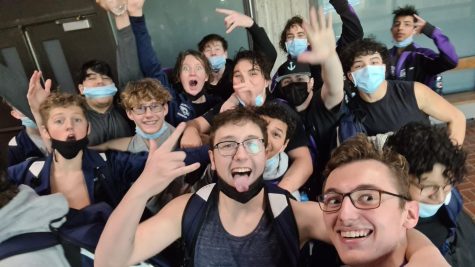 With most of the winter sports season gone, everyone is trying their hardest to make it to the district, and maybe even the state meets. Their determination has been the pride of the entire team, and they couldn't be prouder to be a part of it. So, if you ever see someone with their swim gear on, go and wish them luck. They will be happy to know that the public supports them in every way.
Leave a Comment