New Museum in Pasco
Benton Franklin Historical Society celebrates the opening of it's new building.

The Franklin County Historical Museum has reopened it's doors to the community with a new building, new exhibits, and an updated gift shop. Though the museum has been serving the community for decades, there have been notable changes in the last month.
The Museum is located at 305 N 4th Ave, near Rite Aid and Sylvester Park. The museum had previously consisted of a single building, a refurbished Carnegie library. As of late April, the museum also has an annex building meant to offer more space for community enrichment.
The museum also partnered with Pasco High School student volunteers to assemble the new exhibits. One new addition is the QR codes that make the self-guided tour more informational.
The gift shop supports a number of local artist and celebrates the uniqueness of our county. Including polished stones, postcards, pins, and camel plushies. The museum also holds a number of history books rich in Washington State, Franklin County, Tri Cities, and Pasco history. Something for everyone.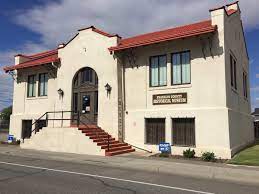 Last month, community members were invited to attend the Ribbon Cutting Ceremony for the new building. Speakers at the event included the President of the Franklin County Historical Society, State Representative for our district, and the Pasco City Mayor.
With each speaker the same message ran through of the importance in knowing local history, and the responsibility older generations have to encourage youth to learn about it.
The Franklin County Historical Museum is set to partner with Pasco High School this upcoming year, including a "Night at the Museum" event in October. Students are encouraged to keep an eye out for any updates.
In the meantime, the museum is open from Wednesday to Saturday and has a number of self-guided exhibits including WWII, Lady of Lourdes Hospital, Agriculture, The Way We Ate, and more.
Admission is only $1 for students and educators.