Prom through the decades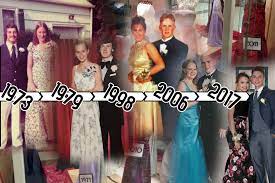 Prom has been very different for the past decade, to the way the girls dress or the new trending hairstyle, to the location of the prom.
1950s:  Prom was located in the school gyms. They were decorated in crepe paper and streamers. There was also a high chance a disc jokey might have played popular music of the day or even a band could show up. Teachers would volunteer to be chaperones so people won't put anything other than punch in the punch bowl.
1960s: the prom craze really took a turn in the 1960s. This is where they became more luxurious. They started to have senor prom in sophisticated venues, Like hotel ballrooms, country clubs, local banquets and convention centers. Prom went from a high-class social event to one of those restrained party's.
1970s: Around this time, The girls often went for a bohemian look with long flowy dress, floral prints and crochet fabrics, This is also where the lady's used feminine eyelet detail's and wore off-the-shoulder sleeves that went with a long peasant inspired gowns. Now for the guys, bowties were very popular for them. Along with bright- colored suits and ruffled shirts. Some even went in a patterned suit.
1980s: When asking out people to prom it usually went like this; The guy liked the girl, They guy then asked the girl to prom, Then that's when they went on and left. If the girl didn't get asked to prom then she would just stay at home because that was the only option. The 80s prom dresses are fun and dramatic with big puffy sleeves, bright colors, velvet tops, bubble shirts, giant bows and lace ruffles.
1990s: Prom was a bigger deal around this time and was a way for students to express individuality.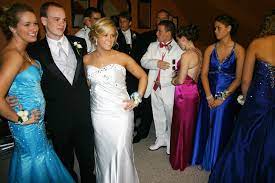 Now for this time girls wore sleek tight dresses that had slits along the thighs. They then completed the look with kitten heels. The guys wore white or black tuxedo.
2000s: In the early 2000s the slinky, halter neckline was starting to be trendy, it gave every prom dress a sporty carefree look. To finish off the look they would put chopsticks in their hair. Now this is where the guys change up their look, They would wear vest which I think is a bold move away from prom suits. Wearing a vest  allowed guys to express themselves without sacrificing any formality.
As you can see prom has been similar through out the years. I think the fashion has been getting better throughout the years. Especially for the girls. My favorite style is from the 1990s, I think its very iconic and super cute!