What are you're plans after graduation?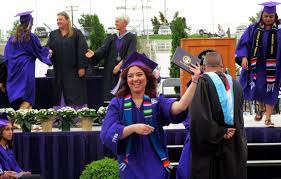 As we know, the 2023 school year is ending, and we're sad to see our seniors go and move on to the next part of their life. It's a big thing graduation it's a feeling of wow I survived all four years of high school you should be proud it wasn't easy especially when Covid-19 came and ruined everything but we did it. it's all come to an end time to do big things in the world rather it's going to college and majoring in many different things rather it's going into the army, going straight to the workforce, and providing for ourselves we all have different routes we will be going you should always be proud that you graduated it's a huge accomplishment that sadly not everyone will get to experience. I went around interviewing some seniors to see what they had planned after graduation here's what some had to say.
C.T: "What I have planned after I graduate is to go to Columbia Basin College for two years and get my AA and then transfer to Washington State University to study and become a veterinarian."
L.T: " I want to become an elementary educator I am currently doing an internship and I love working with kids I hope to continue that after high school."
C.R: "After graduation I plan on going to Victoria's Academy it is a beauty and hair school. I've always wanted to be a stylist. I have loved doing hair for a while its something I can see myself doing for a while."
L.V: " My plan after high school is to buy my first semi-truck and have it running under my aunt's company and I plan to go out to Hanford with my dad to save up to buy more semi trucks then. After I turn twenty-one to cross state lines and eventually own my own business."
J.M: " My goal after I graduate is to go to "Paul Mitchell's" to train to be an aesthetician and also wanna travel to the many different beauties of the world."
As you see there are many different things kids plan on doing after graduation instead its college, the workforce, or the military, whatever the case maybe you should be proud that you made it this far its been a rough past few years for all of us we all truly deserve to go out into the real world and do amazing things for yourself. So to the senior graduating class of 2023 congratulations you did it time to start the next big thing in your life.